Brief description
In the previous StoEx project, a series of highly efficient, low-cost hot-water stores with volumes of approx. 5 up to 80 cbm was developed for outdoor application (Figure 1). The thermal performance of these stores was significantly increased compared to conventional products by combining two innovative technologies: vacuum thermal insulation and transparent thermal insulation. In addition, a novel thermal stratification device was used for the first time in order to reduce the exergy losses during the charging and the discharging.
In the StoEx2 project, these highly efficient stores shall be further developed into established products. StoEx2 is a joint research project by Sirch Tankbau-Tankservice Speicherbau GmbH and the Institute of Building Energetics, Thermotechnology and Energy Storage (IGTE), University of Stuttgart.
The major research objectives are the testing and demonstration of two optimized StoEx2 stores under real operational conditions. As objects of investigation, multi-family residential buildings and biogas plants are the selected cases. Furthermore, new questions from the scientific accompanying research have arisen from the StoEx findings, i.e. new questions to be answered regarding storage optimization. As an example, it takes long to evacuate the filling material of the vacuum thermal insulation during the manufacturing process. These questions shall be answered in extensive experiments in laboratory scale and pilot-plant scale.
With the StoEx2 project, further developed and innovative stores shall be available, meeting market needs, tested under real operational conditions, with optimized manufacturing process and optimized storage technology. For these stores, options for an architectural integration as well as adaption concepts for other applications shall be developed, with proven functional capability in real operation by results from monitoring.
Project partner and coordinator
The StoEx2 project is funded by the Federal Ministry for Economic Affairs and Energy, based on a decision of the German Bundestag, via Project Management Jülich (PtJ) under grant number 03ET1667A+B. The authors would like to sincerely thank for their support and take responsibility for this publication.
Contact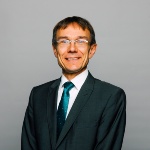 Dr.-Ing. Harald Drück
Research Coordinator and Team Lead