We offer trainings and consulting regarding all our topics, with a special focus on the testing methods and software products developed and used by IGTE. Trainings and consulting are possible either at our institute in Stuttgart, Germany, or as an in-house event in English or German at your site.
Some examples for trainings performed by us in recent years:
Simulation of energy systems and buildings with the TRNSYS software
Simulation of thermal solar systems with the T*SOL Pro software
Testing of solar collectors, hot-water stores as well as solar thermal systems for hot water preparation and for space heating
European and international standards for thermal solar systems and their components such as solar collectors, hot-water stores and controllers
The basics of thermal solar technology and energy storage
Design, planning, and monitoring of solar systems for residential buildings, residential districts and industrial processes
Support related to the elaboration of research applications
Have we covered your interest or are you missing a relevant topic? Please do not hesitate to contact us.
Contact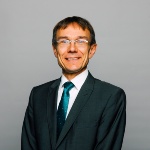 Dr.-Ing. Harald Drück
Research Coordinator and Team Lead