District heating absorption heat pump
The operating conditions of district heating networks are subject to constant change, e.g. as a result of decreasing specific heat consumption in connection with refurbishment of existing buildings (EnEV). District heating networks must therefore be adapted to the new operating conditions. An improved cooling of the district heating water supports this adaptation and enables a lowering of primary-side temperature levels, reduces heat distribution losses, supports the integration of low-temperature (off) heat sources and improves source-side heat supply. Currently, considerably higher operating temperatures and exergy levels are available on the primary side than are required on the secondary side. This is independent of the insulation standard and the efficiency of existing heating systems of connected heat consumers of a district heating network. While temperatures <70 °C are required on the secondary side for the provision of domestic hot water and room heating, temperatures in the range 80 °C to 130 °C are present on the primary side. This exergy is to be used for the drive of an absorption heat pump with the working pair ammonia-water. These heat pumps are integrated into existing house transfer stations, which increases the efficiency of the district heating system.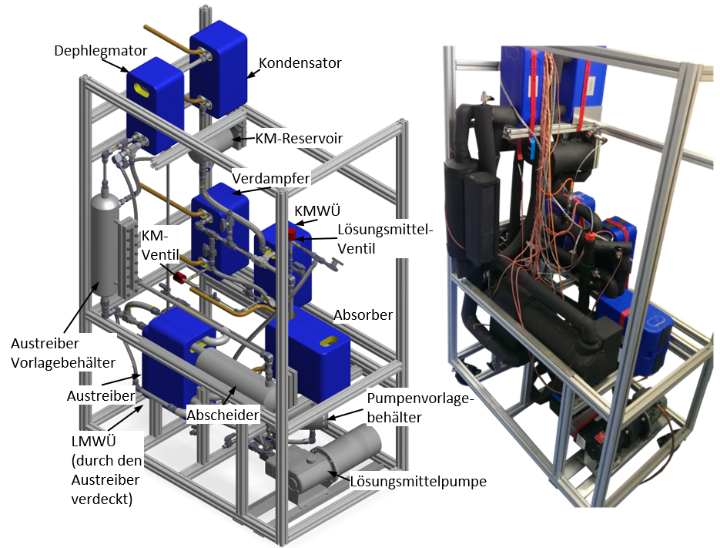 Objectives
By using the absorption heat pump within the house transfer station, a significant increase in the useful heat flows provided and the exergetic efficiency is to be achieved. The operation of this unit should result in a significant reduction of the primary return temperature. In addition, the absorption heat pump must be optimised with regard to the total heat input into the secondary heating network but also with regard to the efficiency of the district heating system.
Related project
Further information as well as the corresponding project can be found here.