Research focus
The Building Energy Systems and Building Automation team addresses energetic issues of buildings as well as of individual system components and energy systems for heating, ventilation, and air conditioning. The evaluation correlates with the demand development, i.e. based on the case of application, the benefit transfer in the room, via the distribution, storage, and the generation of energy.
The behavior of buildings and systems is investigated via coupled building and systems simulations or computational fluid dynamics. Besides, system components are investigated in laboratory tests or with the hardware-in-the-loop (HIL) method.
Publications
C. Karczewski, T. Henzler, and K. Stergiaropoulos, "Kostenoptimale Regelung von Wärmepumpen im Smart Grid," DKV-Tagung 2021 (Deutschter Kälte- und Klimatechnischer Verband), Dresden, 2021.

M. Eydner and K. Stergiaropoulos, "Flexibilisierung der Wärmebereitstellung für RLT-Anlagen," 2019.

T. Henzler, A. Berg, O. Akyildiz, and S. Braun, "Gebäudebetriebsoptimierung durch Nutzeridentifikation in Räumen unter Berücksichtigung datenschutzrechtlicher Aspekte und der Datensicherheit," Tagungsband, 2. Smart Day, Stuttgart, pp. 15–18, 2019.

O. Akyildiz, A. Berg, T. Henzler, and K. Stergiaropoulos, "Optimisation of Energy Consumption in Buildings through User-Identification," Fachzeitschrift The REHVA European HVAC Journal, Vol. 55, Issue 4, pp. 17–19, 2018.

A. Berg and M. Schmidt, "Numerische Untersuchung der Entrauchung von Industriehallen nach M IndBauRL," Fachzeitschrift Gebäudetechnik in Wissenschaft und Praxis (GI), pp. 6–15, 2018.

A. Berg and K. Stergiaropoulos, "Tunnel als geothermische Quelle und Senke," Fachzeitschrift BTGA-Almanach 2018, pp. 72–75, 2018.

M. Eydner, L. Düscö, T. Henzler, and K. Stergiaropoulos, "Investigation of concepts and control strategies for centralized and decentralized HVAC systems," Conference Proceedings Roomvent&Ventilation 2018, Espoo, Finnland, pp. 445–450, 2018.

M. Eydner, "Thermisch-energetische Untersuchung von RLT-Anlagenkonzepten mit zentraler und dezentraler Anordnung am Beispiel eines komplexen Bürogebäudes," Conference Proceedings TGA-Kongress 2018, Berlin, 2018.

T. Henzler, "Energieeinsparpotential in Bürogebäuden durch adaptive Gebäudehüllen," Fachzeitschrift Ingenieurspiegel, Ausgabe 1, pp. 70–71, 2018.

B. Klein and L. Siebler, "Prüfverfahren für dezentrale alternierende Wohnungslüftungsgeräte," Fachzeitschrift HLH, Lüftung/Klima, Heizung/Sanitär, Gebäudetechnik, vol. Bd 69, no. 4, Art. no. 4, 2018.
Contact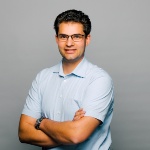 Dr.-Ing. Tobias Henzler
Coordinator of Teaching; Team Lead